How Can You Represent Those People? A Roundtable Discussion
A roundtable discussion will be held to celebrates the release of Professor Monroe Freedman's new book, How Can You Represent Those People? The book, a collection of essays, addresses what is commonly known among those in criminal defense as "The Question": "How can you represent those people?" -- that is, guilty criminals who have committed acts of violence or depravity. There are no right answers to The Question or related questions. Each lawyer has his or her own reasons for doing the work.
This book is the first collection of answers to "The Question" ever assembled. The contributors are some of the most experienced and thoughtful criminal defense lawyers and teachers in the country -- old and young, male and female, white and black. They explain simply and powerfully why they represent "those people."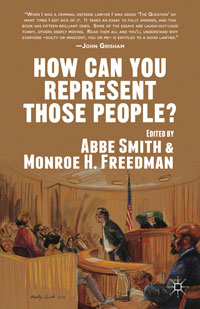 Participants include:
Barbara Babcock, Stanford Law School

Paul Butler, Georgetown University
Law Center

Tucker Carrington, The University of Mississippi School of Law

Angela J. Davis, American University Washington College of Law

Alan M. Dershowitz, Harvard Law School

Vida Johnson, Georgetown University Law Center

Joseph Margulies, Northwestern University School of Law

William R. Montross, Jr., Southern Center for Human Rights

Ann M. Roan, Office of the Colorado State Public Defender

David A. Singleton, Ohio Justice
& Policy Center

Abbe Smith, Georgetown University
Law Center

Robin Steinberg, The Bronx Defenders

Michael E. Tigar, Duke Law School
This event is free and open to the public; registration is encouraged.
 
Date: Wednesday, October 9, 2013
Time: Noon - 2 p.m.
Location: 10th Floor, Joan and Donald E. Axinn Library, South Campus.



Event Sponsors:
Bickel & Brewer
Gottlieb & Gordon 
2 Ethics CLE credits available. $50 for CLE. 
For more information, contact Judith Black, judith.black@hofstra.edu.
Wednesday, October 09, 2013
Cost:
Free and open to the public

Categories:
Contact:
Judith Black


Share this Event:
Email to a Friend
More...
Save this Event:
iCalendar
vCalendar
Google Calendar
Yahoo! Calendar
Windows Live Calendar